About RCC
RCC Waterproofing Whitby
Family Owned and Operated
Since 1920
RCC Waterproofing
Industry-leading Waterproofing Services,
Products and Warranty
News
RCC Waterproofing in
the News
RCC has been featured in many news articles, interviews and television appearances over the years, across news outlets from Toronto, Mississauga, Hamilton and more.
View All News
Why Choose Us
Why RCC Waterproofing is the
Leading Basement Waterproofing
Contractor In Whitby
Whitby Wet Basement Waterproofing.
Written estimate prior to basement waterproofing.
Whitby basement waterproofing reviews and testimonials available.
Guaranteed lowest price in Whitby for basement waterproofing and foundation repair!
Over 100,000 G.T.A and surrounding area foundations repaired and waterproofed.
Whitby Wet Basements made permanently dry, from the inside or outside (with or without digging!)
Written guarantee upon basement waterproofing completion!
All basement waterproofing work guaranteed for 50 years!
Whitby's most referred basement waterproofing Contractor.
Powered by
RCC came to our aid when we found a basement leak. George laid out the prices to fix them and all the services they could use to tackle the leak. He told us about how it could be done from the interior of the home and we decided that was the right way to go based on the price and our situation. Everything went great after that and we have to thank RCC Waterproofing for what they did for us. Thank you guys so much.
---
When the house started to leak, we were panicked and didn't know what to do. Thankfully we found the RCC website and got some information on what to do in the case. We immediately called them as well and was able to talk to George who helped us solve this basement leak. We signed off on an foundation leak repair and the team was able to restore our foundation's integrity. Thank you again George and crew and thank you RCC
---
Canroy and the boys did an excellent job. They came in and left everything neat clean and tidy. Waterproofed and no more worries. Thank guys you did a good job.
---
Had a great and safe experience with waterproofing contractor RCC who had a stellar crew that worked efficiently, cleaned up, respected our property and was very friendly. Our basement leak repair was simple thanks to this crew. Thanks a bunch guys
---
These crews know basement waterproofing. 5 stars!!! RCC is one of the best waterproofing companies in the area.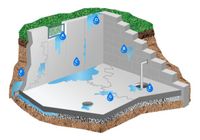 WET BASEMENT?
Family Owned Since 1920
---
RCC did a fantastic job overall. Our basement foundation repair went smoothly and the crew were very skilled and careful. Thanks RCC you guys did great. Definitely a waterproofing contractor I can recommend.
---
We called up RCC and they quickly got us in touch with our sales rep George. He thoroughly brokedown all the waterproofing solutions at our disposal and it made sense to us to just do an external waterproofing to solve the problem once and for all. The service was great, they were kind and courteous and they had great pricing. Thanks so much George, and RCC crew.
---
Everything turned A-Okay. Nicholas helped us out a lot with this water leak situation and gave us good advice. We fixed from the inside of the house as opposed to an external waterproof and it worked. Thanks again for all the help.
---
RCC is a professional company to work with. We had a big job and they took advantage of the good weather with no snow to get it done. They did everything in 3 days including waterproofing our whole perimeter and and replacing a sump pump that had stopped working. Pricing was great, warranty is lifetime so thats great and service was great as well. I would call them before anyone else if you need wotrk like this done.
---
Already for what the spring thaw will bring thanks to RCC Waterproofing. We just moved into this house and was not going to go into spring without it being properly waterproofed. Thanks guys
---
Our sale person George took care of us when it came to this basement leak situation. He offered a competitive price that matched up to the other quotes that I was given and his team of guys did the job flawlessly. We have since poured the concrete pad back and have been water free. Thanks so much George and staff for coming to our rescue.
---
Called RCC to replace my sump pump because it was starting to show its age. I previously had the same crew come in and do an internal waterproofing about 9 months ago. Eddie and Ray were great then and they didn't disappoint this time either. RCC has great service all around and I recommend that you call them up.
RCC Waterproofing Whitby 5 out of 5 based on 12 user reviews.