About RCC
RCC Waterproofing Newmarket
Family Owned and Operated
Since 1920
Since 1920 homeowners and businesses in Newmarket have trusted RCC Waterproofing to solve their basement and foundation problems. With over 96 years of fixing wet basements, damp basements, foundation cracks and basement leaks, RCC's basement waterproofing experience… servicing customers in Newmarket is second to none.
Read More
RCC Waterproofing
Industry-leading Waterproofing Services,
Products and Warranty
News
RCC Waterproofing in
the News
RCC has been featured in many news articles, interviews and television appearances over the years, across news outlets from Toronto, Mississauga, Hamilton and more.
View All News
Why Choose Us
Why RCC Waterproofing is the
Leading Basement Waterproofing
Contractor In Newmarket
Newmarket Wet Basement Waterproofing.
Written estimate prior to basement waterproofing.
Newmarket basement waterproofing reviews and testimonials available.
Guaranteed lowest price in Newmarket for basement waterproofing and foundation repair!
Over 100,000 G.T.A and surrounding area foundations repaired and waterproofed.
Newmarket Wet Basements made permanently dry, from the inside or outside (with or without digging!)
Written guarantee upon basement waterproofing completion!
All basement waterproofing work guaranteed for 50 years!
Newmarket's most referred basement waterproofing Contractor.
Powered by
Of all the waterproofing companies that we called, RCC offered the best overall package. A lifetime warranty, competitive pricing and a great sales rep helped make our decision easy. Sammy was great to work with. He guided us through the process and the basement waterproofing cost. Thank you to Sammy, the crews and office staff for making the waterproofing process seamless.
---
When we sprung a leak, we immediately called the wet basement people RCC Waterproofing. We saw their ads online and decided to give them a call. The work was done pretty quickly and they were very professional. Plus our basement foundation repair is covered by a lifetime warranty.
---
RCC came in, looked at our problem and gave us an excellent quote. We actually got a lot of recommendations from the people who gave us quotes to go with them and I'm 100% satisfied that it happened. I enjoyed the workers, the sales process and the final result. Good job.
---
Justin was a please to have come to look at our basement. Turns out it was just a plumbing issue instead of a full-on waterproofing issue. Not this time, but the next time we have a leaky basement issue, we wont hesitate to call Justin and RCC cause we know these guys are going to do a great job.
---
Sammy is a great rep to work with and help us out immensely. He walked us through how they would accomplish this basement foundation repair job and even gave us the choice to do it inside or outside. We spent the extra money to do the exterior waterproofing and he assured us it would last longer. Its been a month since the work was done and we have been water free. Me and my husband are very happy with the service RCC Waterproofing and Sammy provided.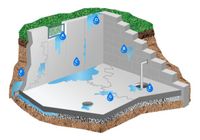 WET BASEMENT?
Family Owned Since 1920
---
Definitely worth the money we spent. We know feel a sigh of relief with this leak taken care of. You never think it will happen to you until you wake up with a leaky basement and your drywall and insulation damaged. We are happy with the service and price and want to thank RCC.
---
We needed our sump pump fixed and replace and we called a bunch of different waterproofing contractor to get some quotes. By far RCC was the best offering and it turned out that their service was good too. I recommend them. They are a family company and I like to support businesses like that.
---
The team has spent quite a bit of time here in Bradford doing underpinning for our house and after it was finished we have so much more space and height in our basement. While the whole time the team was careful with disposing of the excess debris in huge bins. It was definitely worth it to do this and RCC gave us a great price.
---
Justin was a great salesperson. We took a lot of care into making sure that we were happy with the project. He would call us to check if everything was going good and to see if we had any questions. The crews were also great. Always punctual and let us know if anything came up during the process. I appreciate the amount of care RCC associates put into this. Thank you guys so much.
---
Thrilled with the work they did. 5 stars no question about it. Good professional workmanship
---
Had a wonderfull experience with the crew from RCC. They were hard working, very tidy and cleaned up all the dirt after they were done. Even during this time of the season, the job was done without any issues. Please working with the crews and our sales associate Justin.
RCC Waterproofing Newmarket 5 out of 5 based on 11 user reviews.